Vision, Mission, and Philanthropy of
Awam Tibetan Heart Center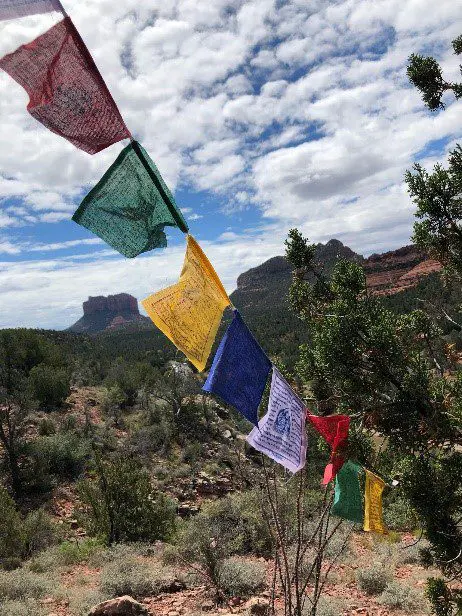 Awam Tibetan Heart Center's core purpose is to share teachings that facilitate compassion and wisdom, a calm and peaceful mind, clarity, and physical and mental health.
In Buddhist teachings, specifically the Heart Sutra, the Diamond Sutra, and the Kalachakra, there is a discussion about a time when there will be great illness, conflicts including much violence, war, and famine. At this time, people will no longer reflect on what is of value to them. Instead, they move from this to that, unthinking. And, truthfulness, kindness, and being good-natured will no longer be common.
This time is called the Degenerate Age. Many believe this is a description of what we live now but this is not a criticism of people. Instead, this points to the significant vulnerability and suffering of people in this Age.
During a time of anxiety, fear, and suffering, there is a journey that can be undertaken to move through, reduce and end these. It is a journey that many ordinary people take in difficult times. They respond to a call within. Yes, there are difficulties. And, through diligence, they emerge victorious as heroes and heroines. Myth becomes lived day to day by ordinary people.
The Buddhist teachings offer the opportunity to have a calm, peaceful mind. The teachings facilitate order out of the chaos of complex emotions and thoughts and cultivate compassion and wisdom while reducing suffering in your and other people's life. They provide a refuge in a storm.
For those interested, the teachings provide the path of the hero/heroine's journey of awakening.
Now in this time of great difficulty and uncertainty, Awam Tibetan Heart Center's vision is to facilitate Refuge in this time of storm. Classes and online activities will explore, foster, and support participants in applying the Buddhist teachings of H.H. Khenchen Lama Rinpoche, Padmasambhava, Buddha Shakyamuni, and other Buddhist teachers in one's life, regardless of one's circumstances.
If you are interested, we invite you to join us. Everyone is welcome.
We look forward to meeting you!
Mission and Philanthropy:
The Mission of Awam Tibetan Heart Center is to provide Buddhist teachings and support Buddhist traditions. Friends call us 'The Heart Center'. The Heart Center's Mission is to further the Dharma and the Tibetan Buddhist Yogi tradition over peoples' life span and into the future. Additional goals are envisioned. These lists of goals are not in order of priority. We invite anyone who has a particular interest in any of these projects to contact us.
We would love to work with you to bring these dreams to fruition!
Current Goals: Classes: Applying the teachings in daily life.
Intermediate Goals: The world is continuing to be transformed by COVID-19. H.H. Khenchen Lama Rinpoche and the Board of Directors have additional goals for the 'Heart Center', that will be announced as we navigate this time of the virus.
Extended Goals: The following areas of the extended vision do not exist at this time. His Holiness and the Board of Directors believe these are important and will be possible to fulfill in collaboration with others.
Hospice teams: To train practitioners for hospice teams and make these teams available to practitioners.
Establish long-term care facility(s) for practitioners.
Provide Wellness center(s).
Transition to and cultivate sustainable communities in harmony with the earth.
Found an accredited school. The school will fulfill curriculum requirements and integrate the teachings into the daily life of students. For example, the Paramitas (generosity, patience, renunciation, morality/good conduct, diligence, loving kindness/goodwill, truthfulness/honesty, wisdom, and equanimity) would be a concrete aspect of the curriculum.